4/92 Wallis Street, Raglan, Waikato 3225
022 475 1141
Being a world traveler and surfer, it came naturally to Steve Valiere to share his adventures through his art. He calls it a calypso-surf-international-in-acrylics thing. ​Steven now lives in rural Makarau with his partner Julie (and the sheep, chickens and peacocks). His studio is surrounded by the hills, and cattle and horses. He's still surfing at every chance, and painting every day.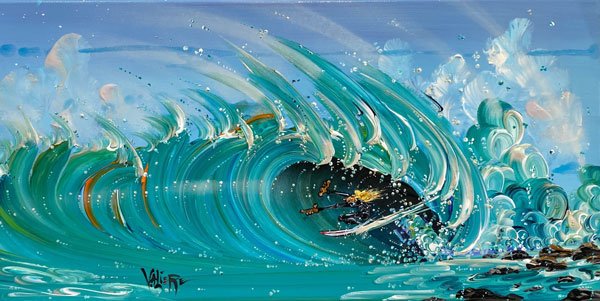 Steven Valiere was born in North Dakota, with Souix, French, German, and Scottish, ancestory. Although born in middle of US, his father's work took him far and wide around the country, ending with Southern California. In the late 1950's the surfing bug got hold and profoundly influenced Steven's life.
Even at a very young age Steven was drawing and painting. Supported by his 'artsy' mom he was encourage with paper, pencils, brushes, and paint. "I took all the art classes I could, through high school, which helped balance my grade point average", Steven says.
Now after near 40 years his painting are exhibited internationally including Europe, Australia, New Zealand, Japan, France, both US coasts, California, New York, New Jersey, North Carolina, and Hawai'i.